Send Inquiry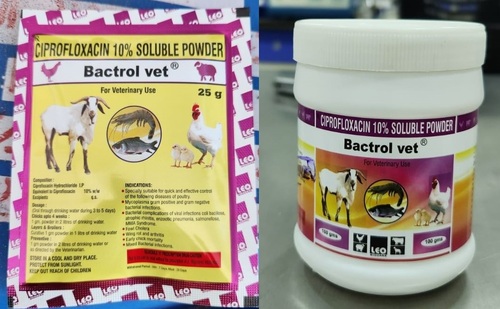 Product Description
Composition :
Ciprofloxin Hydrochloride I.P.
Equivalent To Ciprofloxin I.P 10% W/W
Dosage : (Oral Through Drinking Water During 3 To 5 Days)
Chicks Upto 4week: 1 Gm.Powder In 2litre Od Drinking Water.
Layers & Broilers:
Curative 1gm Powder In 1 Litre Of Drinking Water
Preventive :
1 Gm Powder In 2 Litre Of Drinking Water Or As Directed By The Veterinarian.
Indications :
Specially Suitable Forquick And Effective Control Of The Following Diseases Of Poultry.]
Mycoplasma Gram Positive And Gram Negative Bacterial Infections.
Bacterial Complications Of Viral Infections Coli Bacillose ,Atrophic Rhinitis,Enzootic Pneumonia, Salmonellose,Mma Syndrome.
fowl Cholera
Wing Rot And Mortality.
.Early Chick Morality.
Mixed Bacterial Infections.
Presentation :25gm, 100gm.
Enter Buying Requirement Details
Other Products in 'Antibiotics ' category
We Deal In South India!